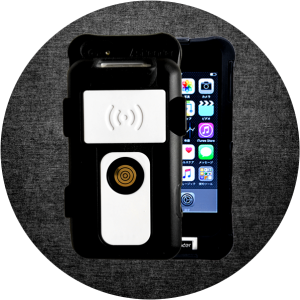 | COMBO-TYPE READERS |
BIG THINGS, COME IN SMALL PACKAGES.
Touch's COMBO-TYPE line defines the phrase, big things come in small packages.
The COMBO-TYPE line of readers combine compact, customer friendly form-factor and powerful performance. Fit UHF RFID, 2D/1D Barcode and NFC capabilities, right in your pocket.
HIGHLIGHTS
- HARD-WIRE PAIRING (NO BLUETOOTH HASSLES)
- COMBINATION OF DATA CAPTURE TECHNOLOGIES
- CHARGE BOTH GUN & MOBILE DEVICE SIMULTANEOUSLY
- COMPACT: W64.0 × D16.8 × H117.3 mm
UHF RFID + 2D/1D BARCODE
Made for iOS | ASR-0231D
Use 2D/1D Barcode for now and be READY for RFID when the time is right for you, with ASR-0231D's RFID+Barcode clever combination.
Compatible with 1D and 2D barcodes. Laser crosshairs help you scan the target barcode easily and correctly.
UHF RFID supports RAIN RFID ISO/IEC 18000-6 Type-C / EPC Class 1 Gen2. ASR-0230D / 0231D support 902-928MHz or 865-868MHz respectively.
HF RFID + 2D/1D BARCODE + NFC
Made for iOS | ASR-0240D
This COMBO-TYPE reader is unique in that it has built in NFC capabilities as well as HF RFID & 2D/1D Barcode functionality.
Compatible with 2D and 1D Barcodes. Lasser crosshairs help you scan a barcode efficiently.
HF RFID supports major types of NFC types.

[/vc_row_inner]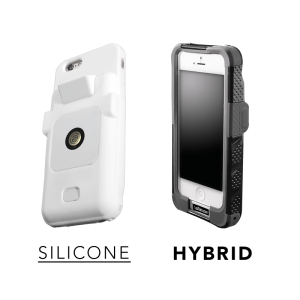 FIND YOUR FIT.
THE CHOICE IS YOURS.
The same in price, and almost equal dimensions / weight.
Both cases have their own benefits:
The Silicone-only Case: (image on left) is faster to put on and take off.
The Hybrid Case: (image on the right) is more rugged due to its combination of silicone and non-porous TCP hard plastic.
Both alternatives look and feel great in hand. The standard colour-ways come in either a professional black, or a crisp white colour. Customisation is also available on demand. Both respective Silicone and Hybrid cases clean well, and are durable, holding up against harsh chemicals, like bleach wipes.