EASY TO USE BLUETOOTH SCANNER
Piranha Scanner
The Piranha can be defined by its snappy reading performance and portability, providing the convenience of always having a scanner at your fingertips. With dimensions of 88 x 46 x 24.5mm it is small enough to fit into a pocket and light enough to carry around all day. Despite its small size, the Piranha maintains an excellent performance, scanning virtually all 1D/2D barcodes seamlessly.
The Bluetooth wireless function can be used to pair the Piranha with a PDA, smart phone and PAD application. This adaptability and portability makes it the perfect solution for application in retail, warehousing and O2O markets like electronic ticketing and electronic ordering.
HIGHLIGHTS
HASSLE-FREE BATTERY CAPACITY
- CAN BE USED ANYWHERE, ANYTIME
- SUPERIOR READING PERFORMANCE
- AS COMPACT, AS BARCODE SCANNERS COME
1D / 2D BARCODE
BS8060 PIRANHA
The BS8060 Piranha is offered in 2 versions, containing a 1D or a 1D+2D engines. These engines are capable of reading virtually any barcode from paper or screen. The 2D device has been equipped with a laser aimer with a red cross to make barcode reading easier and faster.
Via Bluetooth 4.0 Class 1 wireless technology, the BS8060 can be paired with any Android, iOS or Windows device, five times faster than regular Bluetooth.
The BS8060 Piranha is small enough to fit into your pocket and light enough to carry around all day, providing you with the convenience of always having a scanner at your fingertips.
Use the interface that suits your application best. The BS8060 Piranha gives you the flexibility to choose your preferred communication method with options like HID keyboard and Virtual COM.
The high capacity Li-ion battery in the scanner provides up to 11 hours of continuous use per charge, allowing you to work hassle-free all day.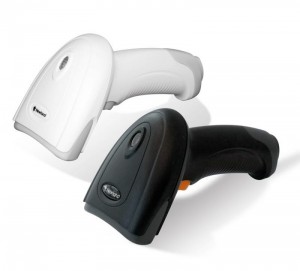 HR22
The HR22 Handheld Scanner provides a cost-effective data capture solution that allows customers to enjoy the capabilities of the 2D barcode Scanner for the price of a 1D scanner. Equipped with Newland's third-generation decoder chip, the HR22 Scanner upholds an excellent scanning performance. Ensuring productivity and comfort with it's design, this scanner is an ideal low-cost solution for applications such as product traceability, purchase-sales-inventory management, ticket/voucher management and office automation.