WE'RE TOUCH, THE DATA CAPTURE COMPANY THAT ENABLES YOU TO DO MORE.
- TECHNOLOGY WITH A HUMAN TOUCH -

EXPANDING A SINGLE DEVICES CAPABILITIES.
For organisations who require a dedicated inventory, asset tracking a customer service tool, Touch offers four unique product types of professional RFID, Barcode and NFC mobile readers, with multi-functional capabilities.

BLUETOOTH; THANKS BUT NO THANKS.
Thanks to MFi certification, our readers boast 'hard-wired' connectivity. This creates a streamlined experience for the user; only having to use one single cable to charge both device and reader, and staying well clear of all Bluetooth pairing hassles.

LESS ABOUT US. MORE ABOUT YOU.
We have heard the pains and struggles from the users of data capture for over 20 years. All of our products have been built with them in the forefront of our mind to provide; a more comfortable experience, create faster, easier work-flow and develop improved interaction & understanding of customers needs.
PREMIUM DATA CAPTURE
Understanding that it is never 'one size fits all', is ingrained in Touch's ethos. This mentality pushes us to constantly develop, and introduce innovative products to an already diverse range of hard-ware solutions.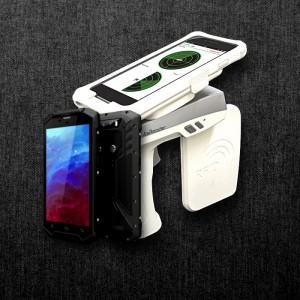 From high performance, supreme mobility, or fixed readers...
We've got it covered.


iOS ENTHUSIASTS.
Our contemporary range of Readers, created for users of iOS.

PLATFORM PREFERENCE.
We understand that mobile platform preference varies from person-to-person, and business-to-business. At Touch, we have Apple iOS, and Android compatibility covered for our RFID / Barcode Readers. We support your choice!

ANDROID AFICIONADOS.
Our professional range of Readers, made for Android users.
LATEST POSTS

PARTNERSHIPS
At Touch, we believe working in a collaborative style, with like minded people, and businesses always achieves the best outcome.
We partner with complimentary businesses, that have common goals of delivering value, and results for customers.